Recently we've had the pleasure of working with the Gahanna Area Chamber of Commerce to complete a refresh on their branding.
Branding Goals
With their branding, we worked with the Chamber's Marketing Committee to come up with logo concepts that were more contemporary and felt a stronger connection to the community of Gahanna. We worked carefully to balance the similarities within the Chamber's branding to the city of Gahanna. We wanted to bring in some of the area's identity to the logo, but with many confusing the Chamber as a government-aligned organization, we wanted to make it different enough that the two would not be aligned with one another.
Bringing in the Members
Once we had it narrowed down to two polarizing options, the Chamber's Marketing Committee determined that it would be ideal to get opinions from the member base of the Chamber.   On behalf of the Chamber, we sent emails out to their 400+ member directory giving them a simple opportunity to vote for one of the two branding options we presented to them.  We received a phenomenal response back, with an open rate of over 37.55% and a click-through (voting) rate of 58.29%.  Offering this opportunity to Chamber members not only helped us get an idea of the public acceptance of the branding options, but it also helped members feel more involved and excited about the changes to the logo.
The Results
One of the two branding options pulled ahead ever so slightly in our voting poll and upon presenting our findings back to the Chamber, they agreed that the winning branding option would become the new brand of the Gahanna Area Chamber of Commerce.  See both the new and old logos below: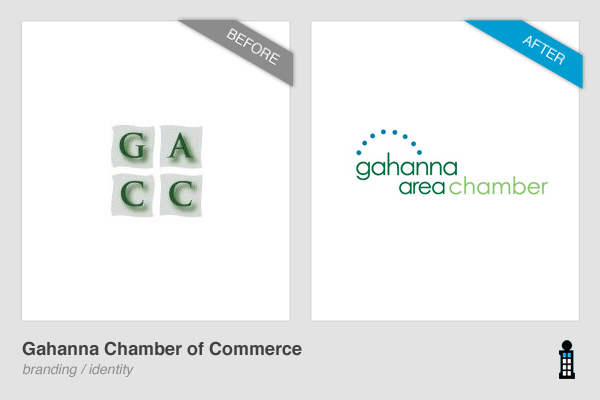 Tags: before/after, branding, chamber of commerce, community, email marketing, Gahanna, gahanna area chamber of commerce, identity, logo